When you don't want to get a 100
September 6, 2020
If you make 100 on a test, you get an "A."
But if you come to school with a "100" on your forehead, they will send you home.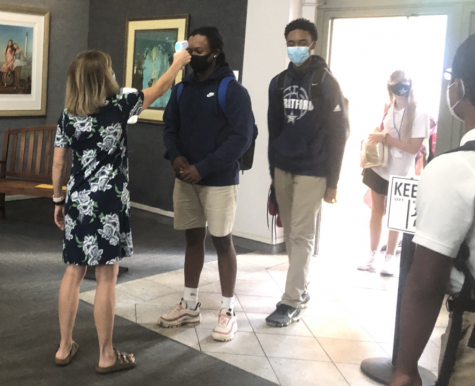 Members of the faculty take temperatures of all the students and administration as they walk in the door each morning.
 "I think it is a good idea to take temperatures because we need to keep our school safe and it's also important so we stay in-person rather than distance learning," freshman Ginna Ross said. 
The various places students and administration can get a temperature check is any door that has key card access. The policy for sending someone home is a 100.4-degree fever or above, but the thermometers run slightly low so anywhere in the 99 degrees range is a bit of a concern as well.
 "The temperature checks are going extremely well,'' Upper School Principal Mrs. Theresa Ferrari said. 
"The rule for a fever is that if a person has a 100.4 fever or above, the thermometer sets off an alarm, we then set the person off to the side, and recheck in 5 minutes, if it persists to be high they are sent to the nurse."