About Us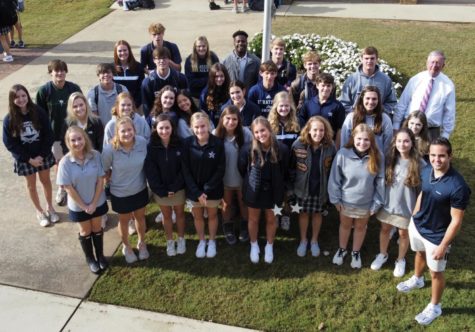 The Stratford journalism department is located in the Olson Library.
Our classroom is under the stairwell in the lobby.
Our studio is located in the library's west wing.
Editors — Olivia Coleman, Anna Mincey, Annie Shih.
News Editors — Harley Anne Shurling, Clarke Jones, Kate Fruitticher.
Feature Editors — Caroline Crick, Athena Leskovics.
Sports Editors — Cooper Baskette, Lawson Cole.
Broadcast Editors — Ashley Parel, Brandon Firlotte, Darius Tamale.
Ministers of Fun — Bailey Thames, Olivia Mann.
Staff — Ellie Mincey, Brigg White, Gracie Peaces, Addie Denisar, Judy Barakat, Kamber Thalongsengchanh, Cole Dover, Hendley London, Akins Manley, John Wade, Bonnie Sherwood, Mary Spencer Reeves, Rachel Toon, Andy Cheek, Ranya Ajjan, Blakely Harrell, Georgia Reeves, Emily Hutchinson, Micah Takac, Carson Chambless.
Advisor: Mr. Ed Grisamore