I'm so glad I jumped in
My lifelong love affair with swimming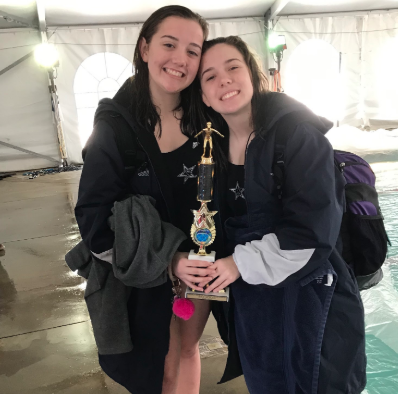 When I was a toddler, I wandered into the pool at my house and almost drowned. My dad was there, dove in, and rescued me. Ever since that day, I have always been attracted to the water.
Every day when I was 8, I would drive by the "bubble" that was around the Swim Macon pool, wanting to be in there. One day, I told my mom, and I was signed up for the next week of practice.
When I started swimming at Swim Macon, I was so nervous going into my first day. I was apprehensive  because I didn't know how to do any of the proper strokes. Soon enough, I learned how to do all of the strokes, and I moved from pre-comp to bronze. Soon, I moved to silver and then I quickly moved to gold. Now, I am with the Junior team at Swim Macon.
Swim Macon has helped me meet many new people.
"
Swimming has made a major impact on my life. I have always enjoyed having the opportunities I have been given to swim with my school and to swim competitively."
— Haley Ellison
I have been swimming outside of school since I was 8 years old. I fell in love with the sport and have always enjoyed diving into the ice-cold water.
When I entered Middle School, I was so happy to be able to join the Stratford swim team. I had already been swimming for three years prior to sixth grade. That year, my older sister, Abby, and I were both on the Middle School swim team. My other sister, Libby, was a senior at that time and she was on the varsity team.
I loved being able to swim for the school, and getting to swim with my sisters made it even more fun. I have been on the Stratford swim team ever since.
This year was my fourth year on the team.  Each year, I have loved swimming with all of my friends and being able to compete.
During the meets, I get to swim all of the events I love to swim while also getting to compete against others. This competition gives everyone a little edge, allowing us a rush of energy and excitement when we dive into the pool.
This year, with the help of everyone on the swim team, we were able to win our region championships for both the boys and girls varsity swim team.
Leave a Comment
About the Contributor
Haley Ellison, Minister of Fun


GRADE:  Junior

SCHOOL ACTIVITIES:Swimming, cheer, key club, pep club

HOBBIES/INTERESTS: Watching Netflix and swimming

FAVORITE COLOR:...