Quiz Bowl 'widens a person's mental acuity'
Stratford's team made up of six seniors, one junior and three sophomores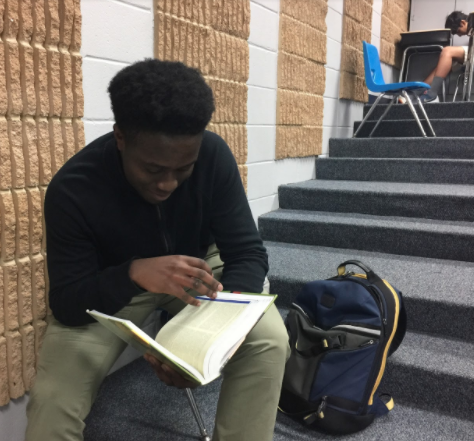 Hang on for a minute...we're trying to find some more stories you might like.
Can a person know everything?
Maybe not, but it would be helpful on the Quiz Bowl team.
Quiz Bowl is composed of a group of students that learn a variety of topics, including history, science, literature, art, and geography. Before they become an official member, they must take a qualifying test with questions from old competition. They are chosen based on their score and previous experience on the team.
"The test is one way to select new members if someone does particularly well, and it is a way to gauge their general knowledge of the different subjects," advisor Mr. Luke Harrington said.
This year, seniors Tejas Athni, Nischal Bandi, Mark Barrow, Sahan Vangala, Tripp Vaughn and Ellie Wangerin were selected to the team, along with junior Rush Patel and sophomores Drew Kelly, Chidozie Nwabuebo, and  Tomi Sogade.
"I think quiz bowl explores the lesser known areas of the world and widens a person's mental acuity," sophomore Tomi Sogade said.
These students meet three times a week to practice. They become more familiar on the topics of the questions and use a buzzer that is at competitions.
At a typical competition, there are four or five rounds. During each round, four team members are put against members of other teams, and a moderator calls out questions to them. If a person has the answer, they buzz  in, and if they get it right, they get a bonus. At the end of the competition, there is a round with the two top teams.
The first competition will be in March at Middle Georgia State University, and there are more being planned.
About the Contributor
Sabina Ajjan, Writer
GRADE: Sophomore

YEARS ON GAZEBO: Second year.

MY FAVORITE THINGS: Swimming. Music. Color Guard. Traveling. Friends.

SIX-WORD MEMOIR: Currently...