Here comes Sadie!!!
Annual Sadie Hawkins dance is Saturday, Feb. 2 at Georgia Sports Hall of Fame
---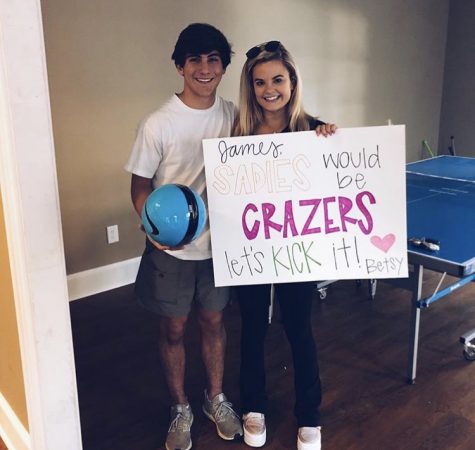 Sadie Hawkins will be held on Saturday, Feb. 2  at the Georgia Sports Hall of Fame downtown. The dance will take place from 8 to 10:30 p.m.
There was not homecoming dance last fall, so this will be the first dance of the school year.
The theme will be an "Award Winning Sadies," with date walls and decorations relating to an award show. As always, there will be a zero tolerance policy for substance abuse. Snacks, such as a nugget tray, sandwich platter, popcorn, and soda will be offered.
This theme is different from past themes, so everybody is very excited. SLB member, Matt Newberry shared that all of the SLB really liked it because "it is different and fun, and since the venue is the Georgia Sports Hall of Fame, it works well."
Matt is also excited to announce the date walls for each grade will be one of the 4 EGOT awards (Emmys, Grammys, Oscars, and Tonys).
The last hour of the dance, the upstairs will be open, allowing students to take part in fun, interactive games.
Seniors
Marta Stevenson and Griffin Matson
Hadley Neal and Rob Cunningham
Caroline Cole and Chan Copelan
Li-An Tsai and Shaw London
Autumn Land and McKinley Thompson
Holland Schell and Sam Clark
Molly Groves and Reid Wilson
McKay Powers and Travis Cunningham
Devon Fitzgibbons and Jamie O'Quinn
Savannah Hendricks and Carson Dorsey
Meggie Aivalotis and Hampton Tiller
Josie Coleman and Griffin Brown
Whitney Sikes and Landon Jernigan
Caroline Horn and Charlie Giles
Maggie McCullough and Bobby McCord
Alyssa Ferland and Ben Duke
Anna Durso and Patrick Brunson
Maimee Henderson and Luke Haney
Karen Jarrard and John Bickley
Emory Sutherland and Jonathan Siegel
Betsy Hill and James Michael
Drake Miscall and Christian Palmer
Isabel McSwain and Andrew Moring
Vivian Duong and Bhavin Patel
Harrison Bailey and Taylor Beasley
Kaitlyn Neel and William Stubbs
Maggie Fuchs and Noah Fenimore
Sai Pagadala and Stephen Grubb
Anna Parel and Will Chambless
Kenzie Munzer and Benjamin Jorgenson
Reese Ellis and Rush Patel
Ashlin Jackson and Taylor Cullars
Katherine Hamilton and Preston Brewer
Layne Davis and Chase Clay
Mary Lynes Sutton and John Morgan Manley
Juniors
Abby Ellison and Carter Barfield
Riley Davis and Grey Faulkner
Sara Kate Durkee and Carter Eddlemon
Jenny Belle Butler and Harrison Tuck
Price Lee and Tomi Sogade
Liza Boswell and Andrew Delves
Lucy Boswell and Matt Newberry
Anna Grace Grossnickle and John Thomas Carter
Susan Hightower and Dell Sikes
Molly Garud and Andrew Cohen
Josie Lamb and Todd Battcher
Taylor Swan and Wesley Wilson
Lillie Sweet Strickland and Dylan Cox
Elizabeth Sellers and Hughes Pinson
Sutton Barrow and Carter Fink
Mary Elaine Mitchell and Preston Wilson
Sophie Denisar and Brady Michael
Nate Jones and Mary Grace Yarborough
Edlin Saint Vil and Liv
Davis Grant and Charlotte Llevat
Graham Hefner and Gracie Slade
Sophomores
Taylor Justice and Nathan Dummitt
Annika Brooks and Charles Brooks
Hailey Firlotte and AJ Stevenson
Alexandra Hall and Joey Gadd
Lauren McElrath and Trey Union
Miller Cranford and Ben Baxley
Lila McCord and Cole Devenney
Niya Dillard and Kobe Sewell
Evie Tharpe and Ben Jamison
Kendall Simmons and Stetson Hatcher
Harmony Nagle and Gavin Martin
Caroline Sutherland and Waldon Davis
Kate Spivy and Jack Medlin
Maddie Fackler and Jack Niceler
EmmaJane Canady and Garrett Solheim
Lolly McMahon and Jack Hardy
Carson Simmons and Tripp Roberts
Claudia Pope and George Seagraves
Olivia Santoyo and Preston Kight
Sarah Pyles and Avery Jackson
Sophie Waldrop and Carter Nystrom
Mary Kate Groves and Wil Cunningham
Heather Samaha and Hunter Hogan
Madelyn Davis and Knox Cleveland
Harriette Ann Bowden and Will McCormack
Kate Wimberly and Will Fackler
Jansyn Stevens and Dylan Ellis
Jocelyn Tang and Christian Lee
Gabrielle Rader and Austin Slocumb
Freshman
Mary Spencer Reeves and Hudson Mimbs
Bonnie Sherwood and Cole Dover
Anna Mincey and Max Payne
Meghana Vemuri and James Burrell
Shelby Bandt and Sheldon Paine
Claire Hurt and Darran Shivdat
Dylan Driver and Brigg White
Bailey Thames and John Wade
Mary Blue Butler and Akins Manley
Cate Eddlemon and Patrick Delves
Olivia Mann and Nate Slappey
Olivia Coleman and Sailor Burton
Ellie Fitzgibbons and Lawson Cole
Haley Ellison and Aaron Perkel
Helen Pope and Lew Story
Elizabeth Cochran and Matt Moore
Anne Travis Evans and Alex Orona
Katie Beth Powers and Cooper Baskette
Anna Caroline Hutchinson and Camden Anthony
Emma Hayley and Jack Minette
Scotty Kelly and Micah Takac
Harley Anne Shurling and Stephen Scarborough   
Katelyn Meece and Camden Smith
Carly Blackwood and Walker Bethune
Rachel Toon and Langley Fickling
Esha Panse and Sean Malhotra
Annie Putzke and Brandon Firlotte   
Ashley Parel and Carson Chambless
Leave a Comment