The long ride home (and to school)
Many Stratford students face long commutes to and from school every day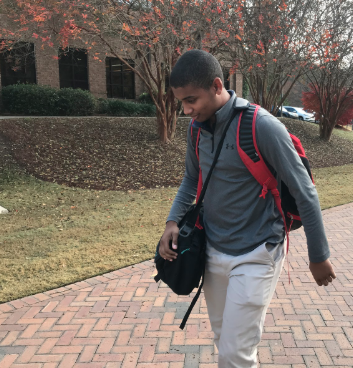 James Burrell, a freshman, wakes up every morning at 6 a.m.
He has to get up early just to get to school on time.
On mornings when he has football practice, James must get out of bed at 4:30 a.m.
He said Stratford coaches Mark Farriba and Sean Sweeney are understanding of his situation and are able to work with his schedule.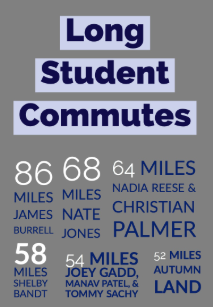 While many Stratford students live less than a couple miles away, James lives a total of 43 miles from Stratford, meaning it is a 86-mile round trip.
James lives in Jackson, Ga.. Jackson, where the Netflix series "Stranger Things" is filmed, is about halfway between Atlanta, where his father works, and Macon, where his mother works. 
His father usually takes him and his sister, eighth-grader Isabella Burrell, to school every morning. Afterward, his dad makes the long drive to his job in Atlanta.
During the car ride, James usually studies and completes homework. He said if he "cannot do it in the car, then it is hard to find time to do it."
James said he does not typically hang out with people in Macon because he lives so far away. Instead, the majority of his friends are from Jackson.
Nate Jones, a junior, has a similar situation as James. He lives in Monticello, which is a round trip of 68 miles.
Nate wakes up every morning at 6:50, and leaves his house around 7:20. He arrives at school around 8 a.m.
If Nate has after school activities, he typically stays in Macon and hangs out with his friends and gets something to eat.
Nate said if he has plans with friends, he has "to make them in advance to get a heads-up on what time to leave."
Leave a Comment
About the Contributors
Evie Tharpe, Writer
GRADE: Sophomore

YEARS ON GAZEBO: First Year

MY FAVORITE THINGS:  The beach, Driving around with friends, Five Guys, Weekends, Roller coasters,...
Caroline Sutherland, Writer
GRADE: Sophomore

YEARS ON GAZEBO: First Year

MY FAVORITE THINGS: Food, Friends, Holidays, Traveling, Six Flags

SIX-WORD MEMOIR: My six word...