ATTENTION: Seeking all writers
New Writers Club focuses on more than just poetry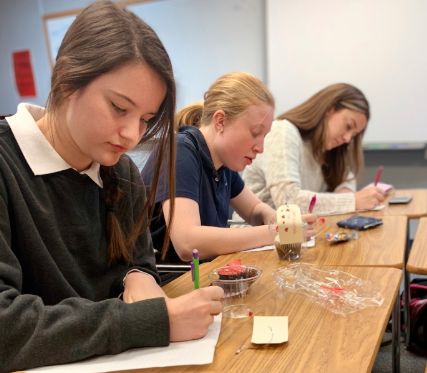 Hang on for a minute...we're trying to find some more stories you might like.
 Miller Cranford was convinced Stratford was in need of a poetry club.
Miller,  a sophomore, was in Mrs. Susan Lolis's accelerated English class. She became more fascinated with types writing Mrs. Lolis has introduced to her students. Miller enjoys types of writing such as "fiction, and more poetry but different styles."
She believes it is important for students to express their writing in fun and serious ways. Together with Mrs. Lolis, they came up with the idea of a "Writers' Club."
The two wanted more than poetry in a writing club. It is named Writers' Club because it is more than just poetry.  
"It was a dual effort to create the club," Miller said.
Club meetings consist of writing exercises, prompts, and peer editing.  For the more serious writers, their work can be submitted into contests and eventually published.
The club's goal this year is to hold a writing class for Middle School students and possibly Lower School.
The club meets once a month on Friday, but hopes to soon expand meetings to twice a month. Writer's club is still accepting new members who are wanting to join. 
About the Contributor
Caris Weinberg, Presentation Editor
Caris Weinberg, not commonly known as Carebear, has been at Stratford for eleven years and on the Gazebo staff for three. This year Caris is a presentation...