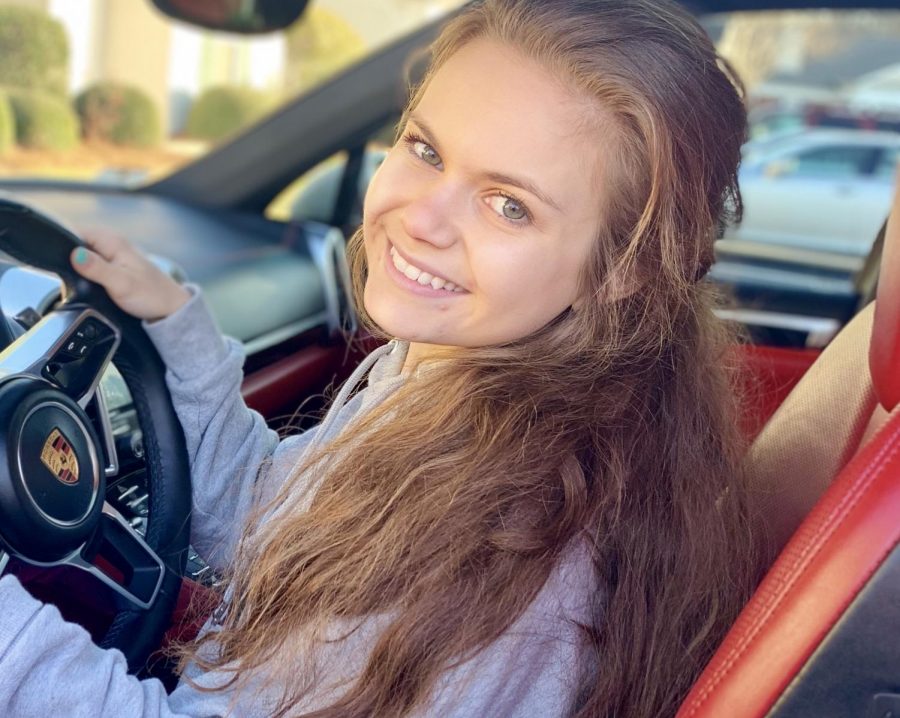 GRADE: Senior
SCHOOL ACTIVITIES: Journalism, Drama Club, Pep Club, Latin Club, and French Club.
HOBBIES/INTERESTS: Fashion, shopping, style, hanging out with my friends, going to the beach, and journalism class.
FAVORITE COLOR: Orchid
FAVORITE FOOD: I simply can not choose.
FAVORITE CANDY: Russel Stoven's coconut creme in white fudge
FAVORITE BOOK: There are too many good books.
FAVORITE MOVIE: undecided, once again, too many good ones.
FAVORITE SONG: "Your Song" by Elton John
SOMETHING YOU MAY NOT KNOW ABOUT ME: I am related to a Backstreet Boy.
SIX WORD MEMOIR: It sounded better in my head.
Caris Weinberg, Co-Feature Editor
Sep 05, 2020

Learning from home effective, but left feeling isolated

(Story)

Sep 04, 2020

Eagle Night flies high, despite different atmosphere

(Media)

Aug 25, 2020

Seniors make their mark in the 'Pit'

(Story/Media)

Apr 26, 2020
Apr 16, 2020

Good Morning Stratford Thursday April 16

(Story)

Mar 28, 2020

Students, faculty adjust to 'distance learning'

(Story)

Mar 28, 2020

Day in Life Part 5

(Story)

Mar 05, 2020

Good Morning, Stratford Thursday March 5

(Story)

Feb 10, 2020

Good Morning, Stratford Monday Feb. 10

(Story)

Jan 26, 2020

'It's probably the funniest show ever written'

(Story)

Jan 20, 2020

Best of the Blogs

(Story)

Jan 13, 2020

Good Morning, Stratford Monday Jan. 13

(Story)

Dec 06, 2019

'Made in America' Chinese food just not the same

(Media)

Nov 08, 2019

Gazebo Broadcast: Book Fair Edition

(Story)

Oct 22, 2019

Pumpkin spice and everything nice

(Story)

Oct 11, 2019

Firefighters bring truck to preschool

(Story)

Oct 08, 2019

Children's author visits the library

(Story)

Sep 30, 2019

Good Morning, Stratford Monday Sept 30

(Story)

Sep 26, 2019

Olson Library gets a makeover

(Story)

Sep 05, 2019

Good Morning, Stratford September 5

(Story)

Aug 30, 2019

Large crowd turns out for Eagle Night

(Story)

May 28, 2019

A passion for fashion

(Story)

May 07, 2019

WONDERS OF STRATFORD

(Story)

Apr 12, 2019

SENIOR SPOTLIGHTS 2018-19

(Story/Media)

Mar 05, 2019

Stratford hosts region literary meet

(Media)

Feb 19, 2019

ATTENTION: Seeking all writers

(Story/Media)

Jan 29, 2019

Stratford adopts Peake for clean-up

(Story)

Jan 23, 2019

Alex Stefanis repeats as 'Poetry Out Loud' winner

(Story/Media)

Jan 09, 2019

You'll never find me in athletic hall of fame

(Media)

Dec 06, 2018

Children's book illustrator visits library

(Story)

Dec 04, 2018

Basketball players read to children

(Story)

Nov 27, 2018

With make-up, every day is a blank canvas

(Story)

Nov 13, 2018
Oct 20, 2018

Autumn Land crowned homecoming queen

(Story/Media)

Sep 24, 2018

Hungry? Here's this week's lunch menu

(Story)

Sep 22, 2018

Getting all fired up

(Story)

Sep 22, 2018

Smiling for the camera

(Story)

Sep 16, 2018

Eagle Cafe Menu Week of Sept. 17-21

(Story)

Aug 23, 2018

'What'll Ya Have?' Eagle Night was pure fun

(Story/Media)

Jun 15, 2018
May 25, 2018

SENIOR SPOTLIGHTS 2017-18

(Story/Media)

May 24, 2018

I'm going to miss my big sister

(Story)

May 23, 2018

WEDNESDAYS AT THE ACADEMY

(Media)

May 15, 2018
Apr 25, 2018
Apr 19, 2018

Bleacher-eye view of Fine Arts Day

(Story)

Feb 28, 2018

'Making fools of ourselves for your enjoyment'

(Story)

Feb 10, 2018
Jan 30, 2018

It is what it is

(Story/Media)

Jan 27, 2018

Practice makes perfect

(Story)

Jan 25, 2018

Last Call for Spaghetti!!!

(Media)

Jan 19, 2018

SNOW DAY (and the day after)

(Media)

Oct 19, 2017

Eaglettes sweep Brookstone, advance to Elite Eight

(Story)

Oct 12, 2017
Aug 28, 2017

All in for the freshmen

(Media)

Aug 22, 2017

Eagle Pride takes center stage on Eagle Night

(Media)