Stratford's tradition of soccer scarves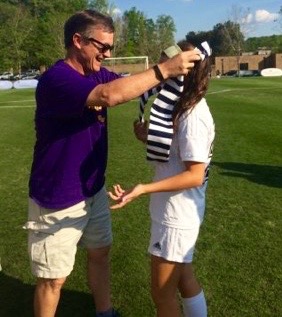 You might have noticed the navy and white scarves some people wear on a soccer game day.
The soccer players start off the day wearing their own scarf and then hand it off to a friend to wear to the game.
This is a common scene during the season, so no one thinks twice about how this tradition started. The soccer team is the only Stratford sport that observes it.
The tradition of the scarves started  in 1998 with Head Coach Grant Serafy, when he decided to bring it to Stratford to increase spirit for soccer games.
He wanted a design similar to the traditional scarves worn by the fans of several European soccer clubs. The scarves normally sported the colors of the club, and in Stratford's case it was navy and white.
Serafy recruited Stratford soccer mom Christie Ott, who owned a sewing shop at the time and was skilled in the profession. That year, the navy and white striped cotton scarves were worn by players for the first time and with each scarf given to a friend, a new fan at the upcoming game emerged.
The tradition of making the scarves was passed by Mrs. Ott to a new pair of soccer moms, who have since passed it down as the tradition has continued.
Each year since, every new player on each varsity soccer team is handed a scarf at the beginning of the season to give to their family and friends before the upcoming home game. In addition, each senior leaving the team gets another scarf with the Stratford soccer motto "You'll Never Walk Alone" printed on it as a memento of their career. The phrase reminds the departing seniors that the program will forever remember them.
"Even when they leave this place, I hope they know Stratford will never leave them," says the girls' soccer coach Kate Blankenship about the importance of the motto.
This tradition is unique to the sport of soccer at Stratford as well as to the school in Macon. If you want to be a part of this special Stratford custom, ask a soccer friend if you can have their scarf before the upcoming home game Friday against Northside High School from Columbus.
The boys play at 5 p.m. and the girls at 7. Scarf or no scarf, come watch to be a part of this player-fan tradition.