Durkee organizes race to raise awareness of stray animals
Stratford sophomore combines two of her passions - running and animal rescue
Hang on for a minute...we're trying to find some more stories you might like.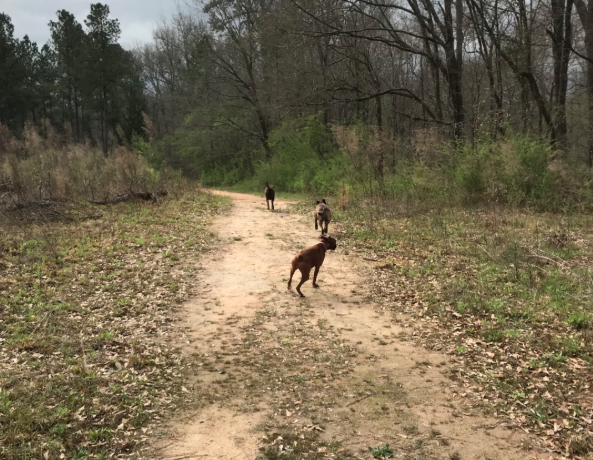 The 2018 First Annual Doggie Dash 5K Trail Run will take place on Saturday, May 12 at 9 a.m. at the Georgia Industrial Children's Home at 4690 North Mumford Road.  
The Doggie Dash is organized by a group of local high school students. It was founded by Stratford sophomore Sara Kate Durkee in honor of her love for her dogs and the outdoors. She is looking forward to the race and hopes it will be a great success.
"I am super excited for the race because animal rescue is very important to me. I hope my race will raise awareness to the issue of stray animals in Macon, and I hope the money raised will help the rescue groups! I chose to do a 5K race because I wanted to combine two of my passions: running and animal rescue."
Proceeds from the race will benefit Reid Rescue and Critical Care For Animal Angels, two animal rescue services located in Middle Georgia.
The cost of participation varies by age group. The race costs $20 for adults who sign up before May 5th and $25 for adults who sign up any time between May 5 and the day of the race. For runners ages 18 and under, the cost of the race is $18 through May 4 and $22 from May 5th through race day. For Phantom Runners, both adults and people under 18 must pay $20. These fees cover the cost of participation in the race, a Doggie Dash t-shirt, and benefit rescue pets in Middle Georgia
About the Writers
Taylor Swan, Gazebo Staff Writer
Taylor Swan is a sophomore and in her second year on The Gazebo staff. She is a member of the Pep club, Key Club and Spanish Club. She is a cheerleader and plays tennis. Her favorite thing to do in her free time is hanging out with her friends. She loves watching movies and television...
Josie Lamb, Gazebo Staff Writer
Josie Lamb is a sophomore and in her second year on The Gazebo. She is a cheerleader, plays soccer and runs cross country. She also participates in Pep Club, Key Club, Spanish Club, and Ecology Club. In her free time, she likes to hang out with her friends and watch movies.