Stratford saying goodbye to teachers, counselors
Mrs. Chabot, Mrs. WIlkin leaving, along with Mrs. Eubanks and Ms. Cowart in college office
Stratford will be saying good-bye to two veteran teachers and two college counselors at the end of the academic year.
Mrs. Rachel Chabot, head of the world languages department, is leaving, along with science teacher Mrs. Cason Wilkin and Mrs. Martha Eubanks, director of college counseling. College counselor Ms. Alana Cowart also will be departing. She is getting married and moving to Columbus.
Mrs. Chabot has been at Stratford since the fall of 2010, joining her father, Dr. Bob Veto, who was named head of school in 2008. She also has served as the varsity girls basketball coach.
In her 10 years, Mrs. Chabot taught every level of Upper School French, including one year of independent study of advanced French. She is headed to Beaver Country Day School, just outside of Boston, where she will chair the Modern Languages department and teach Upper School French.
She said she will miss her students but is "excited to continue to grow and challenge myself in new ways.''
"I have learned something from every student who I have taught, coached or advised,''  Mrs. Chabot said. "Students made me smile and laugh every single day of my job for 10 years, and that makes me feel incredibly lucky. I'm hopeful that many of them will stay in touch with me.''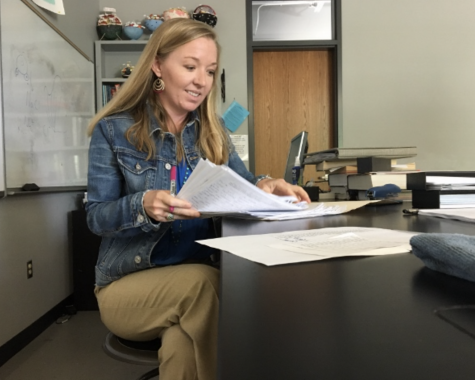 Mrs. Wilkin said the shoe will be on the other foot as she will be attending Mercer Medical School.
"The tables are turning for me as I head back to school,'' she said. "I am so excited to be able to chase my dream and attend Mercer Medical School. I hope I can be half the student that mine have been in AP Biology.''
She, too, will miss her students.
"One of the main things I will miss is watching them have that 'aha' moment when a difficult concept finally clicks,'' Mrs. Wilkin said. "Teaching is such a reward. The other thing I will miss the most is working with Mr. (Luke) Harrington. It has been the greatest honor to work with such a kind, smart man."
Mrs Eubanks has worked at Stratford in the College Office for 23 years and has developed a strong connection with students and families. She said she has loved watching the students grow as individuals and being able to support their successes. 
She has had many great memories at Stratford. A special memory was when she had worked hard with a student on an application to a very selective school and the student was accepted. The student still remains in touch with Mrs. Eubanks as well as the admission counselor from the school.
"Receiving notes and visits from former students during and after college is so rewarding. I have loved staying in touch," Mrs. Eubanks said.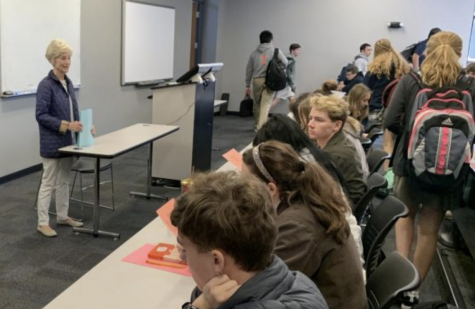 While Mrs. Eubanks grew a special bond with the Stratford family, she also grew strong relationships with college directors and representatives. The relationships would start at a professional level, which consisted of working on advisory boards and advocating for students. Later, the connection would develop and her relationship with colleagues evolved into closer friendships. She still remains in touch with many of these individuals, and a few of them send gifts and check up on her every now and then. 
"Just the other day I found a gift in my mailbox — a face mask secretly delivered by my former UGA rep passing through Macon on her way to Florida who wanted to make sure I was staying safe and healthy," she said.
She also grew relationships with high school counselor colleagues which she grew very close with during her involvement in the southern, national, and Atlanta college counseling organizations. Her relationships with these colleagues consisted of supporting and helping each other professionally, but also being connected socially. Mrs. Eubanks mentions that she still visits a lot of her befriended colleagues, such as Sam Moss of Darlington, who actually set up Stratford's College Office and who she has been friends with for more than twenty years. 
Once Mrs. Eubanks retires, she hopes to spend more of her time with her friends, family, and her 11 grandchildren. She also wants to reconnect with some of her old friendships, help serve the community, and do more cooking.
Leave a Comment