Club Fair has large turnout
Board Game, Ping Pong among new club offerings
How is your backhand in ping pong? How good of a Monopoly player are you? Or are you better at Risk?
The Table Tennis club and Board Game club were among the new offerings at the Upper School Club Fair on Tuesday in the Prentice Robinson Cafeteria. A total of 23 clubs were represented at the event during break. It was the first club fair held in several years. Students and teachers had a chance to show off their clubs and invite fellow students to participate. 
Senior Brandon Firlotte decided to give the club fair a swing and created a club many students will love, Pingpong Club. Brandon still needs approval for his club dreams to come true.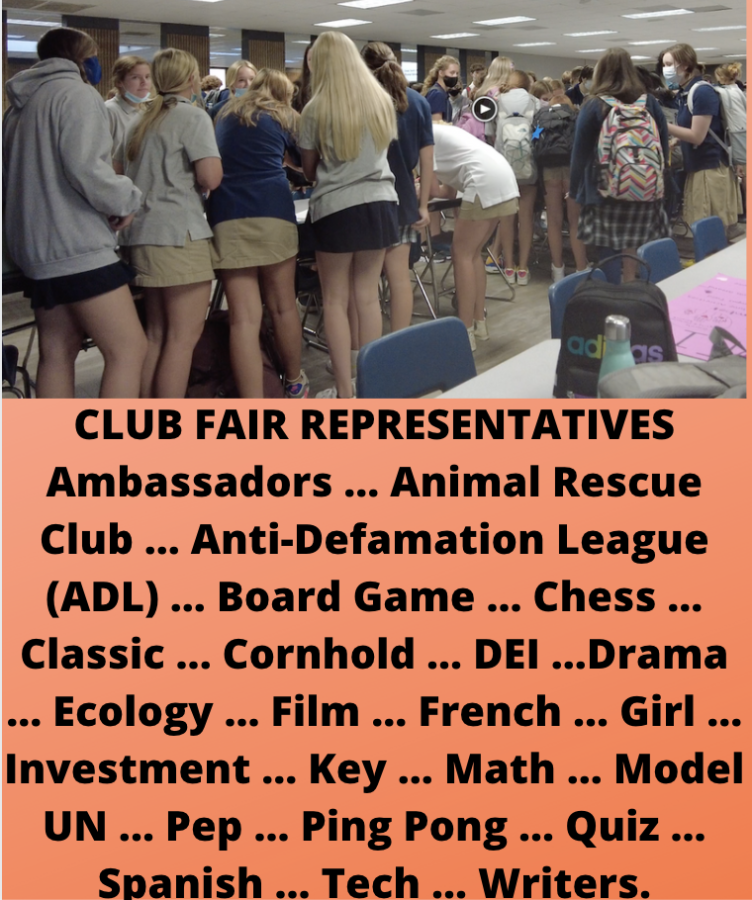 "Club Fair is a great way to get members for Pingpong Club, which will help with future approval," Brandon said.
As of late last week, 215 students had signed up for the club, which would make it one of the largest school clubs, along with Key Club and Pep Club.
Spanish teacher Dr. Kayla Morales has her hand full with three clubs. Luckily, her students in all three of her clubs beautifully handled Club Fair.
"The presidents of my clubs made the signs and sign up sheets," Dr. Morales said. "They set up everything, so the club fair was a breeze for me."
Sophomore Judy Barakat has never been to a club fair before. Last year, due to COVID, Stratford was unable to host one. Judy said she was a "bit overwhelmed with all the chaos"  but was a nice way to see all the clubs.
Several clubs made presentations that were very unique and inviting. Some had decorations, candy and other items. The chess club had a game set up as a way to intrigue upper school students.
"Playing Eli Miscall in chess was entertaining, but I was disappointed because I lost," said Senior Darran Shivdat, who is the president of the Chess Club. 
Assistant Head of the Upper School Mr. Willis Kallay was responsible for creating the club fair this year. He said he "wanted the club fair to be a way where all students, but especially sophomores and freshmen, are able to see and experience all Stratford clubs." 
Sophomore Pranya Kadiyala enjoyed being able to see all the wonderful clubs during the fair but said she "wished it was held in a bigger space because it was a tad bit chaotic with everyone in the cafeteria."
Leave a Comment
About the Contributors
Ranya Ajjan, Staff Writer
NAME:  Ranya Ajjan

GRADE: 10

SCHOOL ACTIVITIES: Color Guard, Math Team, Key Club, Honor Council

FAVORITE SUBJECT: Biology

FAVORITE PLACE ON...
Hendley London, Staff Writer
NAME:  Hendley London

GRADE: 9

SCHOOL ACTIVITIES: band, theatre, drama club, SLB, Key club, golf

FAVORITE SUBJECT: Science

FAVORITE PLACE...