Juggling soccer balls and homework challenging, but worth it
Being a teenager is one thing. Being a student is another. Being an athlete is another. And being all three is a whole different story. 
Balancing normal social life, school academics, and constant traveling for soccer can certainly be difficult at times.
I started soccer before I could add, subtract, and write my name. I was never without a ball at my feet. I watched all three of my big sisters play and I loved the game. 
Macon Soccer Club, just down the road from my house, became my second home for many years. As I got older and competition grew, so did my opportunities. 
I attended a big Georgia soccer camp and was seen by many coaches and met many new friends. Following the camp, one of my new friends invited me to play with her team. After multiple weekends guest playing with her, I was offered a spot on the team… great, right? 
The new team was based out of Lilburn, Georgia. It was 97 miles away from my house and often took at least two hours to get there and two hours to get home after practice. 
Traffic was horrendous almost all the time, and doing homework was often a struggle. Either I felt car sick on the way up or I saved all my work for the way home when the sun was down.
"
        I thought I knew what I was getting into before I started, but you truly never know what it is like until you do it.
— Jean Hightower
Weekends were for game days, two more trips up and back from Atlanta or sometimes Florida or South Carolina or North Carolina or Alabama or Florida or Texas or Phoenix or California or even Washington. 
I played with this team for more than four years up until Covid. During quarantine I moved to a team located in Columbus. Almost my entire team were seniors and the majority were committed to play in college and would graduate leaving me without a team. 
We had a great season with an undefeated record. We became region champions in June after competing in South Carolina for a week. We attended Nationals in Lakewood Ranch, Florida in July. 
Before nationals, another team in Atlanta asked me to play with them in a scrimmage because they didn't have enough players. After the scrimmage, the coach put me on the team.
After finishing the season with Columbus, I attended showcases and nationals with my new team in July. After strong performances at both events we returned to Georgia to train and prepare for our fall season, our busiest time of the year.
My new team is located a little closer, but still anywhere from an hour and forty-five minutes to two and a half hours. Traveling through the heart of Atlanta you can imagine how traffic is at rush hour. 
August strikes, and every weekend is full. We play every weekend on Saturday and Sunday. My team is in the ECNL Southeastern Conference therefore we play our out of region games in September, where we go to Florida basically the entire month. In October and November we play our regional teams, other teams in Atlanta. And by the end of November we start attending college showcases around the country. 
Fall is busy because I also  run on the varsity cross country as one of the top seven runners, and then in the spring I play on the varsity soccer team and run on the varsity track team.
I thought I knew what I was getting into before I started, but you truly never know what it is like until you do it. This is why "putting yourself in someone's shoes" is so important. 
Honestly it can be hard, I have faced challenges, but all those obstacles made me who I am today and continue to be. I have experienced personal growth and maturity, been taught life lessons, truly learned what it means to be committed, and made unforgettable memories with people I will never forget. 
I have learned how to manage my time, get ahead in schoolwork, be responsible for work when I miss and keep up with all my classes as a whole. It has also taught me that you don't have to be perfect. Everybody has different skills and talents and that's what makes you different from others.
Soccer is a place where I can be me. I love that I can go to practice and forget about everything that happened earlier that day. I love that I can have different friends that share similar interests than those at school. I love that I can push myself to be the best I can be in something other than a classroom. I love my sport.
Leave a Comment
About the Contributor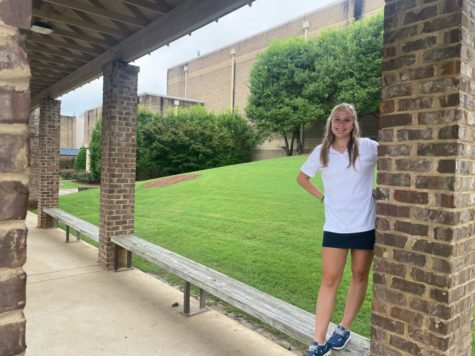 Jean Hightower, Associate Editor
GRADE: Senior

SCHOOL ACTIVITIES: XC, track, soccer, pep club, key club, beta club, peer mentor

HOBBIES/INTERESTS: lake (tubing, skiing, jet skiing),...