The joy of being in band
Everyone has a passion in their life that revolves around them for a long time. I know many people who are passionate about sports, food, entertainment, and the list goes on.
Music has been important to me for my whole life, especially when being a part of the band. Playing percussion instruments in the band strengthened my love for music. 
I have always thought of Band as being a long, musical journey filled with fun. 
My journey in band started when I was in sixth grade. I joined the Varsity marching band and symphonic band. As a part of Band, I was in the Spirit of Stratford Marching Band and Stratford Symphonic Band. 
In the marching band, many fun events happen. We play at every football game, learn hard, but enjoyable, music, and go to marching band competitions with other bands.
During football games, I love it when I play cheers, such as Godzilla, Big Bad Blue, and Frankenstein, because I play music and watch the action that is happening on the field. I get so happy and thrilled when Stratford scores a touchdown and we play the traditional Stratford fight song, Rocky Top. 
During halftime of every home game and some away games, the band will play the halftime show. Each show is about 10 minutes long, but it feels like it's one hour long. Even though playing in the halftime shows are long and energy-depriving, playing in them is still a fun and loving experience. 
Every year, we would prepare for a marching band competition in late September or early October. We would travel to where the competition is located. We would practice and then it would be time to perform the show. Performing the show is very stressful, especially right before our performance. People get terrified. In the end, we would all enjoy the time there and feel proud about the work we put into the show we did. After we performed our show at the competition, we would sit in the stands, eat snacks, and watch other bands perform their show. Awards and ratings would be given out to each band and the competition would be over. 
After the competition is over and marching band season is over, we would move into Symphonic band season.
In the Symphonic band, we would play concert style music. There would be no marching involved and the music would sound somewhat different. The music would be harder, but I think it's more enjoyable. We would practice this music from the beginning of January to the day of the concert, which would be in April. Even though I like Symphonic band music more, I still think marching band is a more amusing and thrilling activity.
I am glad I have many talents in music. I am also glad I have a passion for music. My passion and talents for music make me a valuable person. It also creates memories and important events that happened in my life. Having a passion for music, as well as musical talents pave a road that will hopefully lead me to a successful, valuable, and enjoyable life
Leave a Comment
About the Contributor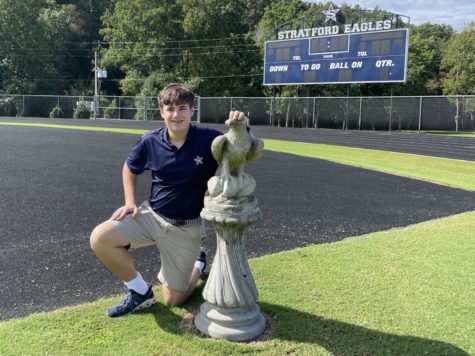 Hendley London, Sports Editor
NAME: Hendley London

GRADE: Junior

SCHOOL ACTIVITIES: Golf, Band, Theatre

HOBBIES/INTERESTS:  Fishing, Golf, Drumming, Pickleball, Fantasy...