Ready. Set. Go.
Attending Caffeine and Octane in Dunwoody made me love cars even more
The sun is rising, and the aroma of race fuel mixed with freshly brewed coffee fills the air. It's 6:30 in the morning in northern Atlanta, and the car community starts to come to life. 
Caffeine and Octane is held every first Sunday of each month at Perimeter Mall in Dunwoody, Georgia, where thousands of "gearheads" gather to show off their rides. To get that great spot, the crowd gathers early in the morning, beginning around 4:30 a.m.
With a reputation as the largest monthly car show in North America, Caffeine and Octane showcases every type of automobile imaginable from mustangs, Lamborghini, old classics, and high-performance sports cars. 
I first found out about the show from a good friend of mine early in the year and thought it was too good to be true. However, it wasn't. My first trip to Dunwoody was in May, as I was joined by two others who were just as excited as me to attend. 
We woke up at 4 in the morning bright-eyed and bushy-tailed. On the drive up from Macon, the three of us talked about what we might see for the first time up close. Fast forward, and it's now 6 AM. As we are pulling into the main lot, his mustang gains the attention of all that is there. 
I get asked all the time why I sacrifice so much sleep and spend so much time fantasizing over a hunk of steel and rubber. Simply because as legendary car performance designer Carroll Shelby said, "There's a point at 7,000 RPM… where everything fades. The machine becomes weightless. Just disappears. And all that's left is a body moving through space and time. 7,000 RPM. That's where you meet it. You feel it coming. It creeps up on you, close in your ear. Asks you a question. The only question that matters. Who are you?"  
A car is more than just steel and rubber. It's a non-living entity that will build your character as you push it to its limit. It will teach you that life can be taken away in a flash and act as a getaway from reality. 
Going to all these events has made me a more sociable person and allowed me to grow my network while surrounded by vehicles that tell others' stories. A car can tell one's life story based on its age and purpose. 
I have made many friends who share the same love and passion I do in the past year. Their success inspired me to follow that lead to become more focused on becoming successful. 
I have helped raise nearly $20,000 in charity donations through my love of cars. Yes, that's right, cars help forge a bond that lasts forever. But my most proud accomplishment is being able to honor other's lives and bring people together not by grief but rather a fun and uplifting environment. 
Leave a Comment
About the Contributor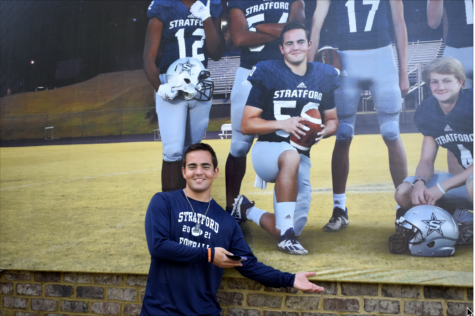 Weston White, Staff Writer
Name: Weston White

Grade: 12th

School Activities: Football, Track, ADL. Pep Club, Student Ambassador

Favorite Subject: Design Engineering

Favorite...