Youth group is a meaningful part of my Life
Ever since eighth grade, I have been going to the Vineville Methodist youth group. It has become a normal part of my weekly activity. I started out going every couple of weeks, but now I don't miss a Sunday at 6 p.m. I love going to hear the message, sing, and go on choir trips and ski trips.
Mike Kinnebrew, the leader, always picks great topics that help with common issues. He, along with the many other leaders, encouraging.
My first trip was in January of my eighth grade year. We went to Sugar Mountain in Banner Elk, North Carolina, to go skiing. I got to meet many new friends and make genuine connections. Although I wasn't the best at skiing, it was still so much fun being in such a positive environment.
During youth meetings, we participate in challenges, including reading the bible. My first challenge was the 21 days challenge. My close friends and I all succeeded. As a reward, we went to Atlanta where we got to hang out and spend quality time with each other.
Every Thursday night, a few high school girls that I am friends with come together for a bible study. We eat desserts and discuss the many challenges we face at school and more. 
This past summer, I went on my first Exodus trip to Naples, Florida. It was easily the most rewarding experience I have ever been a part of.
In Naples, we got to hang out on the beach with the leaders and our friends. We went to dinners where we got to dress up all nice. And finally, at the end of the night we all came together and sang songs about Jesus and talked about God.
My friends from youth encouraged me to participate in another Christian group. It is known as Young Life, which takes place on Mondays, and it includes students from other high schools.
In this group, we go on trips. I went on the trip known as Sharptop Cove located in Jasper in the north Georgia mountains. On this trip, we gave up our phones and spent time outside taking in the beauty of the cove.
Leave a Comment
About the Contributor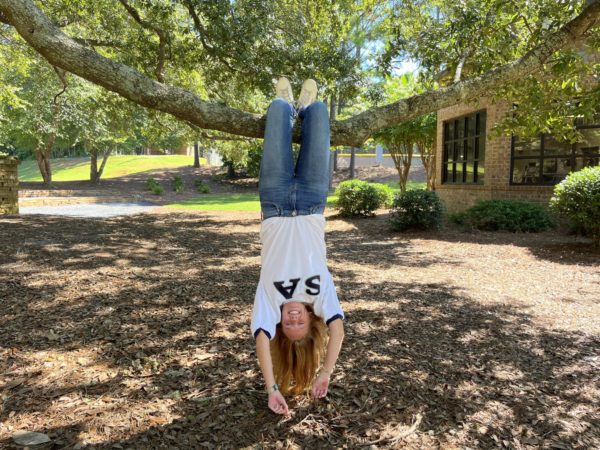 Ellie Mincey, Co-Editor-In-Chief
NAME: Ellie Mincey

GRADE: Senior

SCHOOL ACTIVITIES: Cheer, Lacrosse, and Cross Country

BACK-TO-SCHOOL RESOLUTION: To finish out strong!

HOBBIES/INTERESTS:...