Wimberly's artwork selected for all-state symposium
Megan Wimberly took a watercolor class last year, and she loved it.
She loved it so much she decided to take two art classes a senior in order to complete an AP Art portfolio. Only months into her first year of formal art class, Wimberly is already an award-winning artist.
Last week, Wimberly entered art class to a large congratulations from her teacher, Mrs. Anastasia Fink. She wracked her brain to think of why she would be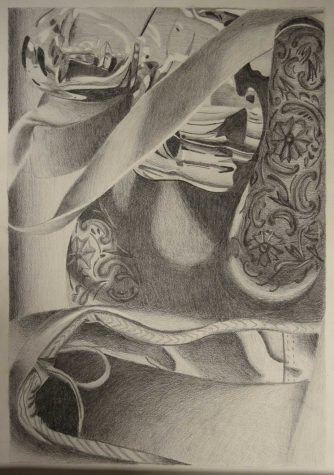 congratulated.
Finally, Fink explained. Wimberly's artwork had been selected as a winner for the All State Art Symposium at Columbus State University. Fink had submitted her artwork earlier in the year.
"I automatically forgot about it," said Wimberly. "I didn't think there was any shot I would win."
Teachers from across the state of Georgia submitted a total of more than 1,200 works of art from students. While the exact number of winning pieces is unclear, Fink and Wimberly both estimate that the selections fall below 100.
Fink submitted works from four students, but Wimberly's piece, "Oscar," was the only winner from Stratford. The graphite drawing features a still life of a ballet show, a teapot, and a fake Oscar trophy, hence the name.
"There's a lot of multimedia and very contemporary work being done, but she had a big drawing that was accepted in," said Fink. "It's a beautiful, realistic drawing. It shows me that drawing is still really powerful in art today, and it doesn't have to be all flashy and multimedia."
As a winner, Wimberly will have the chance to attend the symposium on Feb. 24. The day will feature workshops for the winning artists as well as a reception at 3:30. Prizes and awards will be presented at the end of the day.
Art will not be sold at the symposium, but Wimberly is not opposed to the idea.
"If anyone ever wants to buy my art," laughed Wimberly "I will let them."