Seniors excited about opportunity to vote
Midterms, governor's race highlight Election Day ballot on Tuesday
On Tuesday, the midterm elections will be taking place in the middle of President Donald Trump's first term.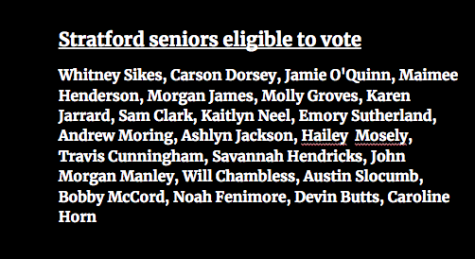 All 435 seats in the United States House of Representatives and 35 of the 100 seats in the United States Senate will be on the ballot. There are 39 state and territorial governorships as well as numerous other state and local elections will be contested as well.
Many seniors that are already 18 are very excited for the midterm elections next Tuesday because they will be able to vote for the first time.
"I am happy I get to vote. It's liberating, and it makes me feel more like an adult," said senior Bobby McCord, who turned 18 on Oct. 28.
Karen Jarrard, who celebrated her 18th birthday on Aug. 3, also is excited about the opportunity.
"I feel empowered, and it's weird that my opinion actually matters in something so large," she said.
 Turning 18 years old is a significant milestone. You have the opportunity to vote, buy a lottery ticket, open a bank account, enlist in the military, and many other things. It also makes you eligible for jury duty.
Leave a Comment
About the Contributors
Caroline Horn, Writer
GRADE: Senior

YEARS ON GAZEBO: First year

MY FAVORITE THINGS: Eating Chick-Fil-A, hanging out with friends, watching The Bachelor, the beach

SIX-WORD...
Mary Lynes Sutton, Co-Editor
GRADE: Senior

YEARS ON GAZEBO: Fourth year.

MY FAVORITE THINGS: My animals. My friends. The Office. Justin Bieber. Sleeping.

SIX-WORD MEMOIR:...