I'll have a cap, with a side order of gown, please
Seniors have special day with 'Graduation Drive-Thru'
On a sunny and cool May morning, Stratford became the graduation hub of Macon.
The school hosted a "Graduation Drive-Thru."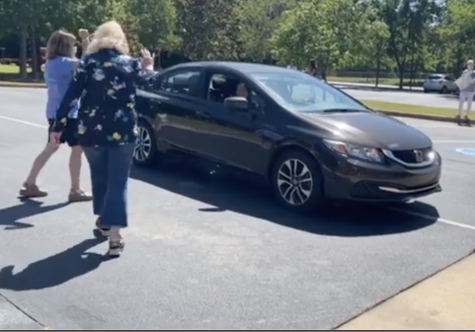 Stratford's campus has been closed since mid-March because of the COVID-19 pandemic, canceling many of the treasured traditions for seniors over the last two months of the academic year. But Head of School Mr. Logan Bowlds came up with a plan for seniors to pick up their caps and gowns. And it served as an opportunity for everyone to see familiar faces.

"I texted and emailed everyone to bring people together for this, and it turned out really well," Mr. Bowlds said. 
Approximately 60 faculty members, along with some of Stratford's cheerleaders, band, and color guard, greeted the seniors with signs and performed for them as they drove around the Loop Road. Head of Upper School Mrs. Theresa Ferrari and administrative assistant Mrs Robin Schorr gave the seniors their caps and gowns at the main sidewalk as they entered the campus.
"It made me feel very loved,"   senior Molly Garud said. 
Mr. Bowlds said it was gratifying to see almost every senior come to campus. 
Graduation, which originally was scheduled for Friday, May 22 at the Macon City Auditorium, will be held on June 12 in The Grady gymnasium on campus.
About the Contributors
Miller Cranford, Co-feature Editor
Miller Cranford learned the alphabet in sign language over the summer. Miller is a junior and has been a member of the Stratford Gazebo for three years....
EmmaJane Canady, Presentation Editor
EmmaJane Canady is a junior and is in her third year of the Gazebo. She enjoys to watch Netflix on the weekend. Her favorite show is "Friends". The...