When in Roman Numerals, do as the Eagles do
Having some playground fun with Roman Numerals for Super Bowl Week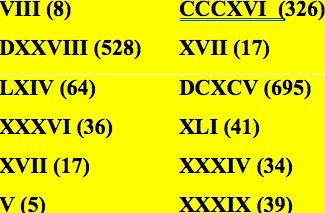 Since Super Bowls always use Roman Numerals to designate the anniversary year, we thought it would be fun to do our own figuring around the school.
Try to match the Roman Numeral with the location.
 LOCATION
Number of upper school lockers.
Number of lockers in each section.
Number of hooks in the back hall by the classroom of Dr. Tom Lolis.
Number of brick dedications in the sidewalk between the library and the science building.
Number of "living" animals in Mrs. Susan Hanberry's science classroom.
Number of stairs leading from the gym to the cafeteria.
Number of painted tiles in the preschool building.
Number of English related jokes on Mrs. Michelle Fleming's door.
Number of flags on Mrs. Hollie Wangerin's ceiling.
Number of monkeys in Mrs. Carol Lanier's classroom.
 Number of decals on the varsity football lockers.
 Number of computers in the Gazebo's office in Room 129.
ANSWERS
CCCXVI  (326)
XXXIV (34)
LXIV (64)
DCXCV (695)
VIII (8)
XXXIX (39)
DXXVIII (528)
XXXVI (36)
XVII (17)
V (5)
XLI (41)
XVII (17)