It's tags to riches for Hatcher, Newberry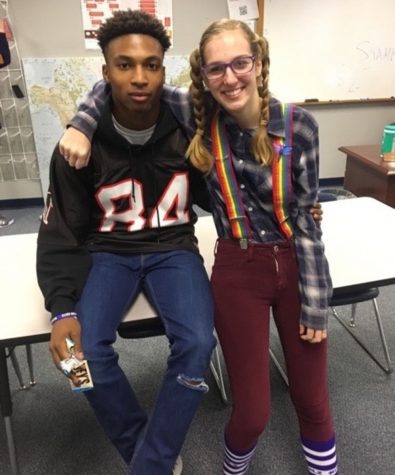 Surprised.
That is how Janie Hatcher felt when it was announced she was the girl's tag raffle winner this past week. 
Her trick to surviving the day of silence?
While "walking through the hallway I would hold the tag to remind myself" she said. Although it was difficult, and she had to be careful of who she talked to, Janie said she didn't have any close calls. She didn't ever feel like giving up, either.
"Most of the time in between classes, I'm going someplace with a purpose," she said.
She was also allowed to talk to the guys during class, which helped Janie keep her will to win.
"I sit with all girls during lunch," Janie said, so she didn't have much trouble then. "And during break, I was taking a quiz, so I didn't have that issue either," she added.
"I got a pop socket and a thing of M&Ms," Janie said, believing it was well worth not talking to guys for one day.
On the other hand, it was no surprise that freshman Matt Newberry was going to win the contest for the most amount of tags won. He paraded around the school wearing all 18 leis around his neck.
Matt admitted he relied mainly on his friendly spirit to help him win.
He said that he "went up to people and said 'hi' to the people [he] knew would say 'hi' back".
His goal to get the most tags wasn't always easy. Some girls weren't too happy they had to surrender their prized possession.
Junior Morgan Mathis was determined to enter her tag into the raffle.
"Morgan and I were running down the hallway because she refused to give me her tag," Matt said, "She gave it to me later that day."
At the end of the day, Matt left school victorious with a packet of M&Ms and a brand new pop socket now in his possession.
He said he enjoyed his time talking to his friends and taking their tags, and might try to beat his personal record next year.