SANFORD CAROLINE NEEL: Cousin, cheer captain and Tootle Days
Sanford Caroline Neel, affectionately known as "Tootle," has been attending Stratford since Pre-K.
She got the nickname because her older sister, Summer Dawn, had a childhood nickname of "Baby Girl." Their father, John Neel, wanted Sanford Caroline to have her own unique name as well. The name has stuck.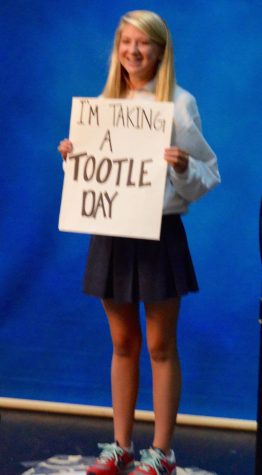 Now in her senior year at Stratford Academy, she is hoping to attend The University of Georgia for her next step of education. Tootle would be considered a legacy at Georgia. Her father, two older brothers, and older sister all attended.
However, she is still waiting for a response from the university. If she does not attend the University of Georgia, she plans on attending Georgia College. She would like to attend Georgia College because it is close to Macon and her family. After graduating college, Tootle hopes to be a nurse or preschool teacher.
Sanford Caroline has created many memories throughout her years at Stratford.
As a young child, she was in a golf cart accident with her siblings. Her eldest brother was driving a golf cart, when he accidentally put it in drive, instead of reverse. The cart dropped off a small cliff, landed on Tootle's four fingers, and they were cut off.
Tootle has also had many great memories at Stratford. One of her favorites is being the varsity cheer captain. She thought being cheer captain would be "a lot of work, but has been a lot of fun." She is a varsity cheerleader for both football and basketball. When Tootle is not cheering or studying, she enjoys watching her favorite show, "Grey's Anatomy" on Netflix and hanging out with her friends.
At home, she lives with her cousin, Annabelle Tomlin.
"It's like living with a roommate,"  she said. "I think it will prepare me for college dorms."