GRACEN BOATRIGHT: Good times, teachers, and savoring last days
Gracen Boatright is beginning to realize she and her fellow seniors are down to their last days of high school.
Her favorite Stratford memory is the FPD "White Out" football game her sophomore year. The Eagles won, and everyone in the stadium was pumped up. Another favorite sports memory is going to Disney World for cross country her sophomore year.
She said her favorite teacher has been Spanish teacher Ms. Aimee Grisham because she's always extremely nice and understanding, especially if her students have lots of extra work. She also knows how to relate to her students. Additionally, she enjoys Coach Ross Bridges for his laid-back attitude. Her favorite class was  AP English her junior  year with Mrs. Michelle Fleming.
At lunch, her favorite FLIK food is the buffalo chicken pizza.
"Senioritis" has hit her hard since she returned from spring break. With a month until senior projects, Gracen can hardly wait for life at Ole Miss next year. She is excited to have the opportunity to meet new people, including her roommate from Jacksonville, Fla.. She also will cherish her friendship with fellow Stratford senior Annabelle Tomlin, who is also attending Ole Miss. Gracen plans to focus on insurance or marketing for her field of study.
Gracen will be sad to leave Stratford behind. It is finally hitting her and the other seniors. Her advice to upcoming seniors to take in everything and enjoy every moment because your senior year flies by. 
Leave a Comment
About the Contributors
Molly Garud, Gazebo Staff Writer
Molly Garud is a freshman who is greatly anticipating life on the Gazebo staff. She plays varsity basketball, JV volleyball, and track. During her free...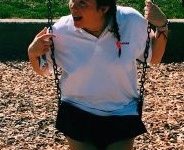 Hannah Lovett, Gazebo Staff Writer
Hannah Lovett is a freshman who plays softball, and tennis. Her favorite class is science. She loves photography and hopes to become more advanced in taking...