When it came to this pick-up line, I didn't 'clam' up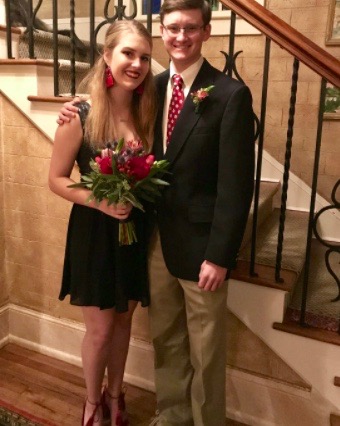 It was the Friday the 13th, a warm October day last year.
Every year, when the PSAT comes around, Twitter explodes with memes, based on stories from the test.
This year's memes included: Shrimp of an Ex-Husband, Tomatoes choosing between a long life and tasting good, a man losing $8,000 on a $25,000 investment, and the clams with their seagrass beds.
The girl I had been talking to, junior Isabel McSwain, always has been fond of these memes. We started dating in the middle of January 2017, but didn't quite make it into April.
After taking a break for the summer and working on finding ourselves, we decided to give it another go. I texted her, asking if I could take her out to get some ice cream before the FPD game.
She said she could but it would have to be quick because she had to run an errand for her mom before the game started. We met at Marble Slab Creamery around 3:40 p.m. because the carpool line is always a nightmare. And, with it being a Friday, it was even worse.
I remember seeing her get out of her car.  She had on jeans and a Navy blue Stratford spirit shirt. Her hair was in one long ponytail. The first thing she said was how much she disliked the PSAT.  After talking about it some, we made our way into Marble Slab.
When it was our turn to order, she would not let me allow her to go first. I just went with it and decided to order mint chocolate chip. She ordered vanilla with sprinkles.
We  sat at a round table and started to look for all the PSAT memes. We ended up finding a few new ones, but  we had already seen and laughed at all the others.
It came time for her to have to run, so we finished up our snack and began to make our way to where we had parked. I had been so caught up in the moment with her that I almost forgot to ask her what I'd been dying to ask that whole week.
I  faced her when I reached her car and said in a playful tone, "Hey,  so uhh … I'll be your clam if you'll be my seagrass bed."
The whole time she was laughing she could barely get out an "Oh, my God."
Four months later, and I still question myself if she was laughing at my pickup line or at the fact she said yes.

Leave a Comment