Prom has 'Great Gatsby' theme
The theme of Friday's prom is "The Great Gatsby."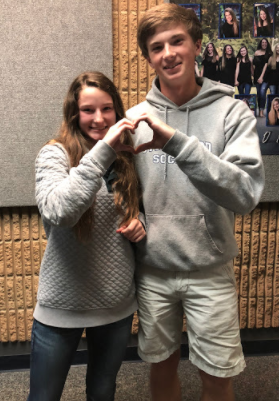 The dance will be held at the Terminal Station on Cherry Street in downtown Macon.
Lead-out is at 8:30 p.m., and will include all seniors and their dates, as well as members of the Student Activities Board and the Student Issues Board.
Before the dance, seniors will have their pictures taken at Tripp Vaughn's house. Afterward, seniors and their dates will load the bus to go downtown for dinner at the Rosewood Ballroom.
Juniors and their dates will go to Marta Stevenson's house for dinner and pictures before taking a bus to the dance.
2018 Date Wall
Bhavin Patel and Vivian Duong
Noah Fenimore and Sai Pagadala
Shaw London and Li-An Tsai
Hunter Kunzelmann and Kaylee Jellum
Jake Moore and Anna Kate Alford
Jack Kelly and Emma Davis
Alexandra Stefanis and Travis Cunningham
Alexander Smith and Natalie Cunduff
Cole Gilland and Morgan Mathis
Cal Whitworth and Gracie Holliman
John Coleman Tidwell and Caroline Cole
Thomas Anthony and Maggie McCullough
Webb Doxey and Vannah Zawacki
John Drinkwater and Carlin Weinberg
Andrew Palmer and Mei Mei Randolph
Josh Bevill and Porter Bolles
Kevin Gibson and Carey Woodcock
Greg Sutton and Evans McCook
Parker Kight and Emmie Cate Powell
Mckinley Thompson and Drake Miscall
Tobe Umerah and Anaya Thomas
Andrew Cerry and Emily Fackler
Grey Faulkner and Katherine Hamilton
Rob Cunningham and Hadley Neal
Griffin Brown and Josie Coleman
Luke Haney and Karen Jarrard
Griffin Matson and Marta Stevenson
Jamie O'Quinn and Devon Fitzgibbons
Will Deal and Sydnie Rouleau
Steve Durkee and Olivia Pruett
Charlie Giles and Betsy Hill
Nick O'Neal and Lucy Lee
Carter Griffin and Ellie Peterson
Tripp Vaughn and Carolynn Dromsky
Mark Barrow and Eliza Freedman
Benjamin Jorgensen and Kenzie Muenzer
Stephen Durso and Dallis Foshee
Jonathan Jokhai and Georgia Schaffer
Brannan Suggs and Anna Brantley
Keith Hartness and Ellie Cleveland
Michael Hicks and Lillie Sweet Strickland
Charles Cross and Catherine Brown
Preston Brewer and McKay Powers
Nathan Hunt and Margo Hannan
Jack Harty and Molly Groves
Dell Sikes and Caroline Durkee
Trey Giles and Emily Sheridan
Ellie Minette and Matt Newberry
Anna Durso and Patrick Brunson
Christian Palmer and Sloane Ramsbottom
John McMaster and Tori Dover
Nischal Bandi and Sara Kate Durkee
Carson Dorsey and Savannah Hendricks
Austin Slocumb and Riley Davis
John Morgan Manley and Caroline Horn
Grant Bailey and Holland Schell
Jake Jamison and Emory Sutherland
Clifton Olmstead and Evie Tharpe
Sahan Vangala and Liza Boswell
Jonathan Siegel and Elizabeth Sellers
Jeffrey Waldrop and Ellen Adams
Kaitlyn Neel and William Stubbs
Lucy Jenkins and Tucker Massey
Carson Greene and Anna Kate Medlin
Larson McDaniel and Caroline Sutherland
Logan Fink and Autumn Land
Aman Jindani and Amelia Bunker
Jeffery Hale and Maggie Fuchs
Tyler Jordan and Karina Ugarte
Bowen Powers and Kathryn Spinks
Hampton Tiller and Mary Lynes Sutton
Harrison Bailey and Anna Parel
Sarah Koplin and Nate Jones
Will Chambless and Katie Beth Wells
Sam Clark and Layne Davis
Taylor Cullars and Ashlin Jackson
Joseph Webb and Meggie Avalotis
Amelia Foulkes and Logan Hudson
Preston Kennedy and Murray McCormick
Andrew Moring and Isabel McSwain
Bobby McCord and Gracie Slade
Logan Thomas and Kendall Simmons
Jourdain Irvin and Cochran Lee
Leave a Comment