Ishan Viradia's research earns honors
Stratford freshman's study of opioids wins first place at Georgia College Science and Technology Fair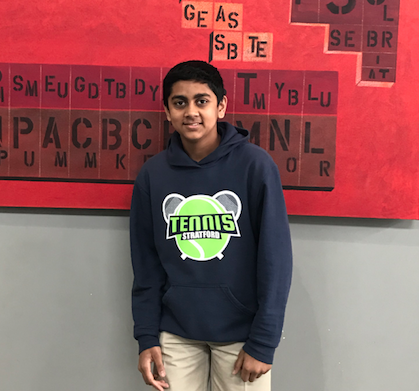 Hang on for a minute...we're trying to find some more stories you might like.
Since the summer of 2017, Georgia and other states have experienced an opioid epidemic. Opioids are pain-reducing drugs that are abused by many but, if taken correctly, are beneficial.
Stratford Academy freshman Ishan Viradia is off to a good start on his way to hopefully finding a solution. Ishon recently won the 2018 Science and Engineering Fair at Georgia College.  
He had been told about the opioid problem from his father's friend, a physician. He understood the dangers that come with taking opioids and wondered if there were an alternative.
Ishan did many hours of research and found Transcutaneous Electrical Nerve Stimulation (TENS), which stimulates nerves to release endorphins, so people experience less pain.
After a few months, Ishan went to the regional competition in December and won first place and Best of Class. He also attended the state fair in March.
Even though the science fair is over, Ishan still has high hopes.
"I was maybe thinking about expanding it, because I only decreased the opioid use to around 30 patients," he said. "I was thinking about publishing it with the CDC (Center for Disease Control)."
About the Contributors
Miller Cranford, Writer
GRADE: Sophomore

FAVORITE THINGS: Poetry, reading, learning, music, food, my family (friends included), and Stratford Academy

YEARS ON GAZEBO: Second...
Sabina Ajjan, Writer
GRADE: Sophomore

YEARS ON GAZEBO: Second year.

MY FAVORITE THINGS: Swimming. Music. Color Guard. Traveling. Friends.

SIX-WORD MEMOIR: Currently...