Freshmen, new students sign honor code pledge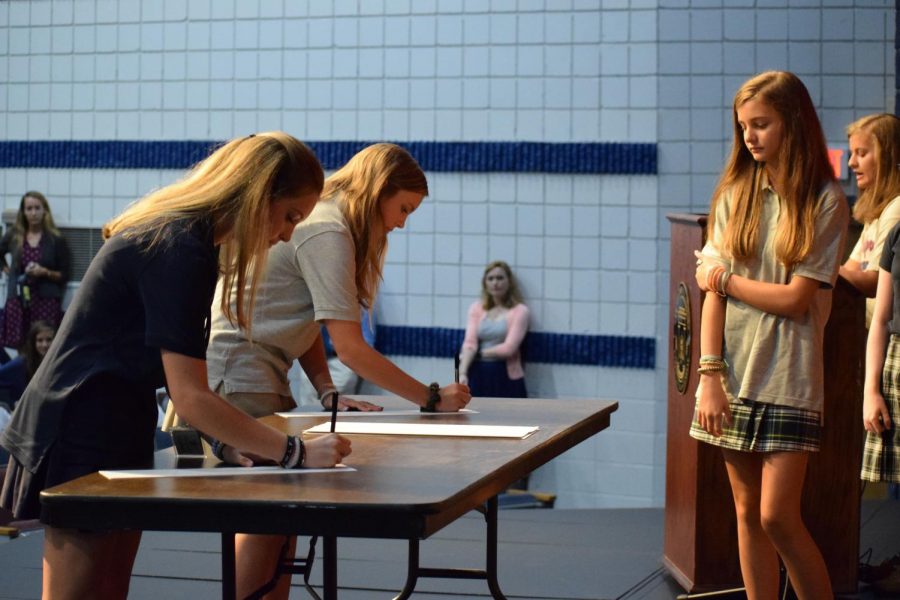 Sophomore Hailey Firlotte is one of 15 new students in the Upper School at Stratford.
On Friday morning, Aug. 17, this new student did something new.
Along with other new students and the entire freshmen class, Hailey participated in the annual signing of the honor code at an assembly of all Upper School students and faculty in the Henry H. Tift Fine Arts Auditorium.
"I actually really like that Stratford has one because it shows that its students are well rounded and well prepared," Hailey said.
Headmaster Dr. Bob Veto began the assembly with advice to students about the honor code.
As students on the honor council stood behind her, senior McKay Powers called all freshmen and new students to the stage  by home room to sign the the pledge not to lie, cheat, steal, or plagiarize.
NEW STUDENTS:  Brandon Firlotte, Anum Ahmed, Ellie Fitzgibbons, Mekhi Lyder, Brigg White, Isaiah Josey, Shelby Bandt, Blayze Dennis, Lew Story, Hailey Firlotte, Garrett Solheim, Grant Gordon, Jamal Hugues, Hailey Mosely, Whitney Sikes.
FRESHMEN: Annum Safia Ahmed, Shelby Renee Bandt, Cooper David Baskette, William Walker Bethune, Carly Ann Blackwood, Tyler Alexander Brown, Zachary William Buehler, James Johnson Burrell, Sailor Stephen Burton,  Seth Gunn Bush, Mary Blue Butler, Carson Heath Chambless, Elizabeth Antonia Cochran, Robert Lawson Cole, Olivia Jones Coleman, William Patrick Delves, Blayze Allen Dennis, Colton Samuel Dover, Colton Samuel Dover, Dylan Reese Driver, Carolyn Cate Eddlemon, Haley Claire Ellison, Anne Travis Evans, Ayaan Fazal, Langley Patrick Fickling, Brandon Caleb Firlotte, Ellie McCook Fitzgibbons, Bhargav Sai Gudapati, Varnika Guduri, Blakely Sinclair Harrell, Emmaline Clare Hayley, Hadley Virginia Horner, Emily Grace Hunt, Claire Lawson Hurt, Anna Caroline Hutchinson, Isaiah Micah Josey, Amin S. Karim, Anna Scott Kelly, Mekhi Noel Lyder, Akins Francis Manley, Olivia Churchwill Mann, Shorter Hill McCook, Katelyn Elizabeth Meece, Anna Pettit Mincey, Jack Christopher Minette, Matthew James Moore, Nicole Nguyen, Alex Orona, Esha Sagar Panse, Ashley Denton Parel, Ayush Dipesh Patel, Maxwell William Payne, Gracie Marie Peace, Aaron Coleman Perkel, Helen Carter Pope, Katherine Elizabeth Powers, Ann L. Putzke, Waris Abdul Qadir, Mary Spencer Reeves, Milind Rugnath, Naina Rugnath, Stephen Luke Scarborough, Bonnie Carolyn Sherwood, Darran Shirish Shivdat, Harley Anne Shurling, Samantha Renee Simons, Nathaniel Allan Slappey, Micah Benjamin Takac, Darius Adrian Tamale, Bailey Dianne Thames, Rachel Lynn Toon, Camilla Anne Veale, Meghana Vemuri, John Paul Wade, Weston Brigg White, Victor Enmanuel Zeledon Romero.
Leave a Comment
About the Contributors
Sabina Ajjan, Co-editor
Sabina Ajjan —or Sabean, as denominated by her friends— is a junior. This is her fourth year at Stratford and her third year on The Gazebo staff where...
EmmaJane Canady, Photography/Videography Editor
NAME: EmmaJane Canady

STAFF POSITION: Photography/Videography editor

GRADE: Senior

SCHOOL ACTIVITIES: Lacrosse, Key Club, Pep Club Leader, Classics...