Father-son fishing trip reels in the memories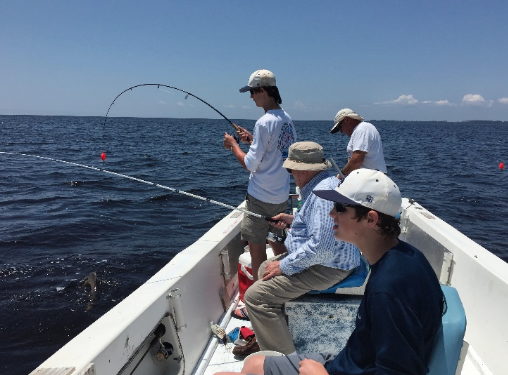 Every year, during the first week in May, my father, grandfather, my brother and I go on a fishing trip to St. Marks, Fla.
It's our annual father-son fishing trip. I have been attending  for about 10 years now and have enjoyed it every time. There are lots of fun activities and great fishing down there.
We left right after school on a Thursday, and the ride down there was about three and a half hours. We end up arriving at around 7 p.m. and went to one of the local restaurants. Riverside has great seafood and there is a dock next to it. After we finished eating, we went to the fish camp and were ready for a big day of fishing on Friday.
The next morning, we woke up at about 6 a.m. and got ready to go to the dock. We got our tackle box setup, poles lined up and the cooler and snacks packed, and then we were ready to roll.
The boat we go on is not big but is just enough room to fit us and a guide. Just as we are about to start fishing, we know it's going to big a long day. We often spend around eight hours out on the ocean,  depending on the amount of fish we catch. We are trying to catch are rainbow trout. The limit for each person is five trout, so the goal is to get 20 in the boat.
Within in the first few hours, we already had about four fish in boat. I brought in two fish and my dad had the others. As the day progressed, we all continued to catch a lot of fish.
Later, I went on a cold streak not catching a lot of fish and was getting very impatient. Instantly, a fish bit on to the hook and I continued to reel it in. As it started to come up we could see it was a big trout,. My dad brought the net and I slid it into the net. We put into the boat and it was a trout and was about 20 inches.
That day we went back out reeled in 15 catches. It was a pretty good day and very fun.
The next day we went out and had another really good day. We caught 15 trout and three Spanish mackerel. It was a fun trip, and I am excited for the next one.
Leave a Comment
About the Contributor
Ben Baxley, Co-Sports Editor
NAME: Ben Baxley

STAFF POSITION: Co-Sports editor

GRADE: Senior

SCHOOL ACTIVITIES: Football, Basketball, and Track

HOBBIES/INTERESTS: Playing...