Students enjoyed variety of summer jobs
In honor of Labor Day, we interviewed five students about their work experiences over the summer
Maggie McCullough spent her summer with a slice of bacon named Kevin.
Maggie, a senior at Stratford, had a job with the Macon Bacon, a local baseball team whose mascot is called  "Kevin Bacon." She was part of what was known as the "Sizzle Squad," helping with game promotions and fan participation activities when the team played at Luther Williams Field.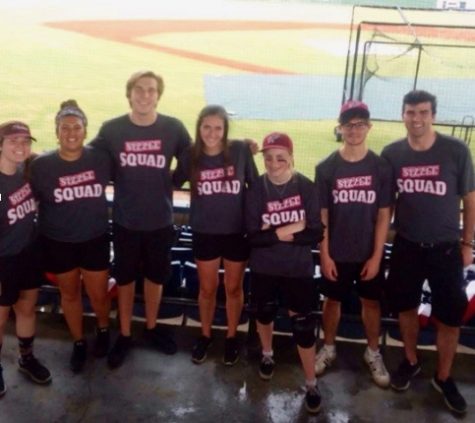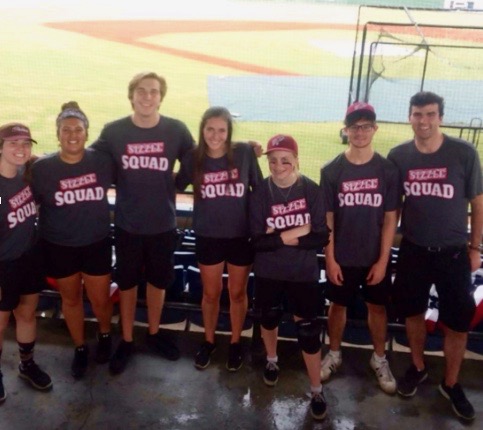 Maggie saw the job opening posted in a theatre group she is a part of on Facebook. She was looking for a summer job and thought it would be a fun experience.
According to Maggie, she worked about 10 games a month, averaging one or two per week.
"I had to get there an hour before gates opened to set up all the props, and then find contestants, run the games, and do different skits and dances," she said.
Her favorite part of the job was "probably working with the kids because they always have so much fun." She said it was "always a good thing to see them out on the field having fun being near the players."
The most difficult part was trying to find contestants for some of the game activities. She was told "No," a lot of times.
Maggie said the biggest thing she learned during her job was how to approach people. She liked her job a lot and hopes to continue working with them in the future.
Junior Matt Newberry spent his summer working at Jeneane's at Pinebrook as a food runner, carrying hot plates to customers' tables. He was encouraged by his family to apply for the job, and he felt like it would be a great fit for him.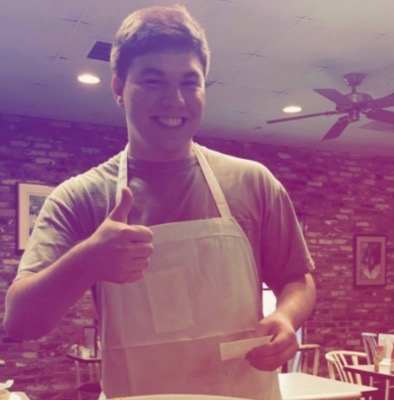 "My brother worked there some, so I knew the benefits he received and the hours, which all appealed to me," Matt said. "I also wanted to work in a restaurant rather than lifeguard because I am a workaholic and I like to always be on the move. Also, I knew a restaurant wouldn't be as hot –I was wrong — and the hours would be better. I would get to interact with people, I would get free food, and I would get paid well."
He was paid slightly above minimum wage, and received $10  in tips for every shift. He said he will continue working on Sundays during the school year — the busiest day of the week at the popular Forsyth Road restaurant.
One of the biggest takeaways of Matt's job at Jeneane's is the friends he has made over the summer. Matt felt welcomed and loved by his coworkers.

"It's really like a family. The first thing I told my parents after my first shift was how nice and funny everyone was, and how excited I was to work there," he said. "It's nice going in there even when I'm not working and seeing all my friends, like a home away from home. One time I went for lunch with my friend Jenny Belle, and she said 'it's like I'm here with a celebrity' because people kept coming to talk to us!'"
Jonathan Siegel spent the summer  pressure washing people's houses.
"

It is a very satisfying job, especially seeing the final product. It's also cool to be my own boss and plan houses around my schedule."
— Jonathan Siegel
Jonathan, a senior and president of Stratford's Student Leadership Board,  runs a business  he calls "Bleach Brothers." He is co-owner with Cal Whitworth, who graduated in May and is a freshman at The University of Georgia. They have been pressure washing together for the past three years.
"It is a very satisfying job, especially seeing the final product,"Jonathan said. "It's also cool to be my own boss and plan houses around my schedule."
Their business has a very catchy name called "Bleach Brothers." They got "Bleach" because they use bleach every time they pressure wash, and "Brothers" because he and Cal look a lot alike! Jonathan said it has been rewarding so far and he will continue to do it until he goes to college.
Sophomore George Seagraves was one of several Stratford students who spent the summer working a Dickey Farms in Musella, the oldest peach packing operation in Georgia.
 He decided he needed a job because, "I have to pay for gas and car insurance, so I needed a source of income."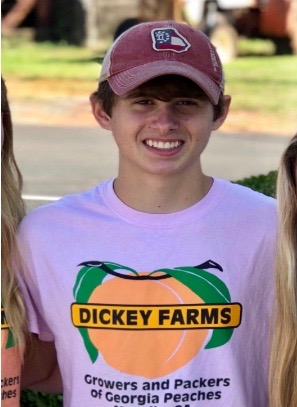 George chose to work at Dickey Farms because, the packing shed was close to his home. He began working there May and worked five or six days a week during the summer.
George said his responsibilities included setting up the retail floor in the mornings, putting the ice cream machine together, and restocking all the jars and drinks
"After that, I would bag peaches, takes boxes of peaches out to customers' cars, restock anything that need it, and/or make ice cream," he said.
Working at Dickey Farms was very beneficial. He said he "learned how to manage money, how to deal with customers, and how to be responsible."
George enjoyed working at Dickey Farms so much that, "I plan on working there for the pecan season this year and next year's strawberry and peach seasons."
From the beginning of summer until school started back, Bobby McCord split firewood every weekend..
He decided to do this because his uncle did it when he was in high school, and made enough money to pay for college.
Every time Bobby worked, for three and a half hours straight, he worked at sawing up and splitting the wood. He said he knows it does not sound like a lot of time, "but it's hard work and you can get a lot done."
Bobby will be continuing working during the school year, but he said he needs to "find the time to work around football."
Bobby worked alone over the summer, but he believes John Morgan Manley will be helping him out during the school year.
This summer is not the first that Bobby has had a job. His junior year, he worked on the greens crew at Idle Hour Country Club, reporting for work at 6:30 a.m. each day.
Bobby raked the bunkers on the course and was also weed-eating creek beds, which according to him is the "worst job you can be assigned."
Leave a Comment