Rookie lacrosse season provides lasting memories
Since I was five years old, I have played soccer. But this year, I decided to join the lacrosse team.
It was a difficult decision to quit soccer, but in the end, I believe I made the right choice.
My cousin, Lila McCord, started playing lacrosse as a freshman last year, and had told me how fun it was. After months of convincing, I finally gave in.
At first, I was really nervous about playing, because soccer is a game where you mostly use  your feet. I had never played lacrosse, and I didn't have any of the equipment necessary to play the sport.
The first practice was tough. It had rained the day before, so the ground was wet and muddy. During one of the drills, I was running to the goal, and I slipped and fell into the mud.
I felt like I was doing everything wrong, and it was difficult for me to get comfortable using the lacrosse stick. After a few practices, I got used to using the stick and was obviously making progress and getting better.
Practices were getting easier, and our first game was just around the corner. The game was against Locust Grove, but was postponed due to the weather. Later that week, Friday, March 2, was the game against Columbus High School in Columbus.
I got to leave school 30 minutes early that day. The bus ride to Columbus was very interesting. While riding on one of the back roads, we saw a horse just standing in the middle of the road.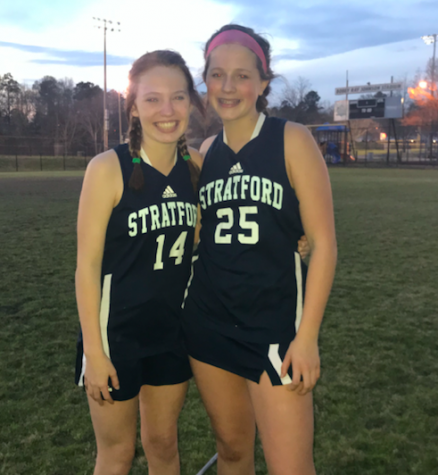 We arrived at the lacrosse fields around 4 p.m. and our game started in an hour and a half. I was getting very nervous because it was my first game and I thought I wouldn't be prepared. Soon enough, it was game time.
The team ran onto the field, and the game started. The ball flung into the air and the clocked began to tick.
At first, I had no idea what to do. We were giving up goals, left and right, and the other team got far ahead of us.
Finally it was halftime, and our team met up to discuss the half. After some time to talk it was time to get back onto the field.
The second half started and I was wasn't as nervous. We were doing better this half, and they didn't score as many goals.
As the time flew by, only five minutes were left on the clock, and we were down by 15 points. I knew we wouldn't be able to make a comeback.
The clock came to a stop and the game was over. We all ran back to the sidelines to give the other team high fives.
After we were done congratulating the other team, we all rallied together to talk about the game before we left the fields.
I thought everyone would have been really upset we lost, and they were. But everyone was positive. I realized no one was to upset that we had lost the game, because we all had a good time playing together.
We lost our next three games, but that didn't get anyone's spirits down.
Our next game was the was remake game against Locust Grove at home on March 20. The referees were an hour and a half late, but both teams stuck through the cold. Finally, the referees arrived and it was game time.
It was an intense game and we were tied for the majority of the game. When we came back from halftime, and scored three more goals, while Locust Grove only scored two.
We finally won our first game. Everyone was so excited and ready for the next one.
We have two games left and intend to play our best.
Leave a Comment
About the Contributor
Anna Mincey, Editor in Chief
NAME:  Anna Mincey

GRADE: 12

SCHOOL ACTIVITIES: Lacrosse, cheerleading, cross country, student leadership board, beta club, pep club and ADL

FAVORITE...