Growing up with a love of music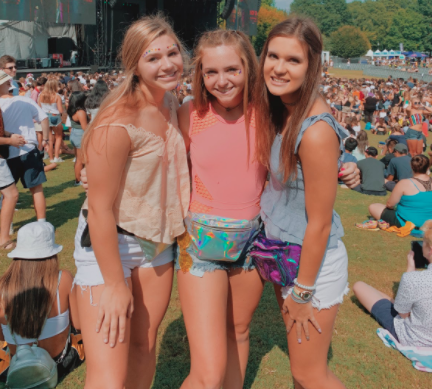 What do you play? I play Spotify.
Music is an essential part of my daily routine. I love music so much, I always have it playing, when I am in the shower, while I am studying, and even when I go to sleep. 
My parents were always playing music when I was younger and as I got older I began to develop my own music taste. My dad was in a band and my stepfather started the popular music group, The Zac Brown Band. I ended up playing piano for five years. 
I have a couple favorite artists that include Olivia O' Brien, Julia Micheals, Harry Styles, Billie Eilish and more. One of my favorite activities is to go see artists play live in concert.
 In September, I went to Music Midtown at Piedmont Park in Atlanta. At Music Midtown I got to see Cardi B, Quinn XCII, Billie Eilish, Madison Beer, and many more. Music Midtown was so amazing and one of the best weekends of my life. I got to go with a bunch of friends from my school. We were able to get close to Cardi B after her performance and that was exciting and a great way to end the first day of the festival. 
Later in October I got to see Julia Micheals perform at Buckhead Theatre in Atlanta. I met up with two of my friends who live in Atlanta, Nellie and Lily,  at the concert. We had general admission floor tickets, and we were decently close to the front row. But halfway through the show Julia ended up coming off the stage and stopped right in front of me. She sang two or three songs before going back up on the stage. I was in complete shock when she came down off the stage. I was so excited and in awe I could not believe she was really standing in front of me. She was so close I could reach out and touch her arm.
Finally I recently got to see Oliva O' Brien at Terminal West Station in Atlanta. Oliva O' Brien has been one of my favorite artists since I was in sixth grade. I actually was able to get meet-and-greet tickets and meet her and get a picture with her before the concert started.
With the meet-and-greet tickets we got a CD, a VIP voucher, a signed poster, a picture with her of course, and early access to the venue and merchandise. My friend, Bella, and I both ended up getting the same white t-shirt, they were super cute. We were able to get front row on the floor which I was really excited about and we met a ton of super sweet girls.
I ended up getting the opening band's drumstick, they were called Hey Violet, I actually liked their songs. I sang, jumped, and screamed while Oliva sang and it truly was the best night of my life.
I am so grateful I have been able to experience so much live music because I really value and appreciate it.
About the Contributor
Athena Leskovics, Staff writer
NAME: Athena Leskovics 

STAFF POSITION: Staff Writer
GRADE: Sophomore
SCHOOL ACTIVITIES: Swimming, Volleyball, Key club, Pep club
HOBBIES/INTERESTS:...