Family farm chance to disconnect, appreciate nature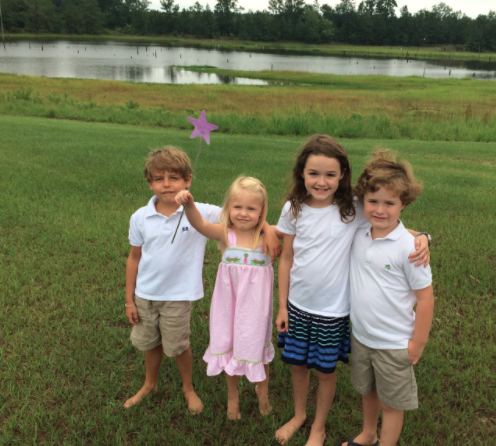 My family farm property has been a part of my life for many years. For as long as I can remember, my family and I would take trips to the farm. The property is located in Louisville, Georgia, which used to be the capital of Georgia. My family and I are one of the few members of the property. It is formally called the Rockin' Ranch. 
Sometimes we go as just family, and other times we invite more people to come. There are plenty of beds for everyone to sleep in. The more the merrier. 
We get disconnected from the WiFi and enjoy everything the farm has to offer. There are many lakes and ponds that we like to fish in. They are all scattered around the property.
When I was younger, I would sit in the boat while my dad would fish. I would always play with the "bubblegum worms" in his tackle box. As I got older, I learned to fish and switched from playing with the worms to adding them on my fishing rod. 
My dad has caught the biggest fish so far, with my brother following close in suit. 
After a morning of running around, we serve up lunch on the grill, which is made up of hotdogs and hamburgers. We love to eat it out on the porch and enjoy the nature view. 
To get around the farm, we use a golf cart. There are trails around the property to get to every desired location, even if it's the "bermuda triangle." 
The bermuda triangle is a guaranteed spot to get a golf cart stuck when it rains. The muddy ditch is just waiting to get a hold of whatever comes across it. A trip to the farm usually consists of pushing the golf cart out of the bermuda triangle.
All of my family dogs found a love for the farm as well. Lucy, my first dog, was very lazy. But the farm gave her a new energy. She loved to explore and attempt to make friends with the cows, who look a lot bigger from up close. 
Scooter is my current dog, and he is always very energetic. He loves to splash around in the pond and chase the golf cart around the property. He is always in the mood to play, even if he has been active all day. 
Everybody loves the farm, dogs included. It is a place to disconnect for a few days and enjoy the amenities of nature. 
Leave a Comment
About the Contributor
Clarke Jones, Editor-in-Chief
GRADE: Senior 

SCHOOL ACTIVITIES: Key Club, GirlTalk, Pep Club, Cheerleading, Ambassador.

HOBBIES/INTERESTS: Hanging out with my friends, family,...